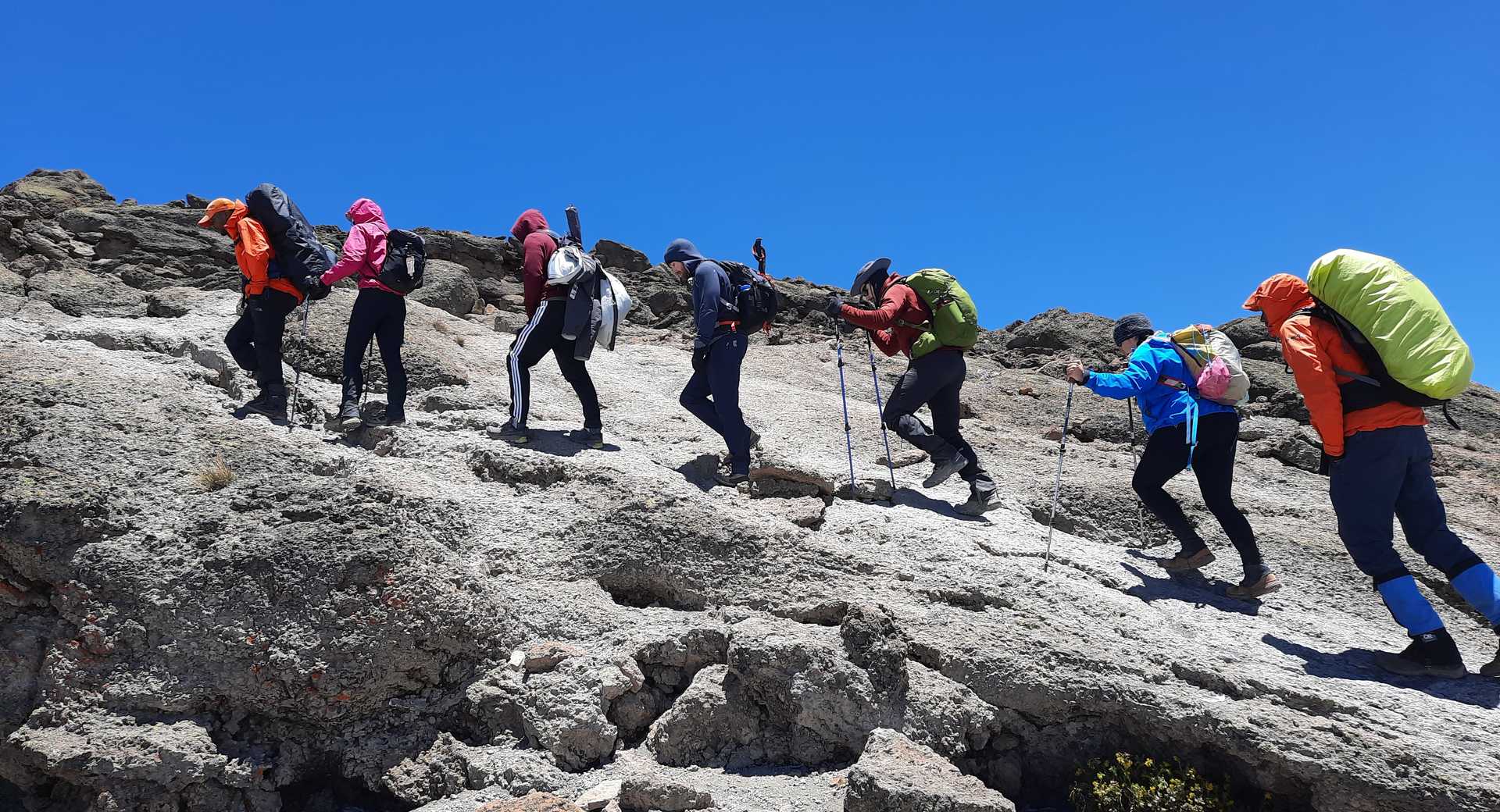 Day 01: Arusha – Momella Gate – Miriakamba Hut: After driving from Arusha we start from the Momella Gate (1,500m) in the late morning, the tracks soon passes some open grassland, and have some game viewing.  You can see Buffalo, warthog, and Elephants, etc. and then continue as a steady climb through montage forest.  You can have your lunch at the famous "Fig tree".  After lunch the trek continues through less dense forest, where there are a lot of birds and monkeys including the black and white colobus.  By mid afternoon, there are the first closer views of the towering cliffs and the Ash Cone.  Miriakamba Hut (2,514m) situated in idyllic grassy glade, is reached in time to enjoy the last of the afternoon sun and beautiful views over the surrounding plains towards Kilimanjaro.  It takes about 4 to 6 hours walking.  Ascent is 1,014m.  Dinner and overnight at Miriakamba Hut.
Day 02: Miriakamba Hut – Saddle Hut – Summit – Saddle Hut: The walk from Miriakamba Hut to the saddle below Little Meru is a short day but a steep sustained climbing all the way.  Starting through attractive, open and lush montage forest, the path continues beyond the halfway point of Elephant ridge and carries on uphill through the giant heather and other moorland vegetation to reach Saddle Hut (3,570m) and lunch.  The afternoon is free to rest and enjoy the views.  For energetic ones, can make the short climb to the nearby summit of LITTLE MERU (3,820m) for superb views just before sunset.  It takes about 3-5 hours walking.  The ascent is 1,056m.  Saddle Hut is similar to Miriakamba but water is collected from a stream about 10 minutes away; dinner and overnight at Saddle Hut.
Day 03: Saddle Hut – Miriakamba Hut – Momella Gate – Arusha: An early start at around 0200 hrs to climb steeply to Rhino Point (3,800m) the path continues along an undulating ridge of ash and rock to reach Cobra Point (4,350m) at around sunrise.  The views are stunning: the cliffs of the crater rim, the Ash Cone rising from the crater floor, Kilimanjaro floating on the morning clouds, and the Rift Valley if the weather is clear.  The summit of Socialist Park (4,566m) is an hour more on a superb but often steep path. The route back to Rhino Point in the sharp morning light along a narrow ridge between the sloping outer wall of the crater, then you walk a long way to Momella gate where you will meet your driver and return back to Arusha and drop off at your Lodge/Hotel. End of trekking.