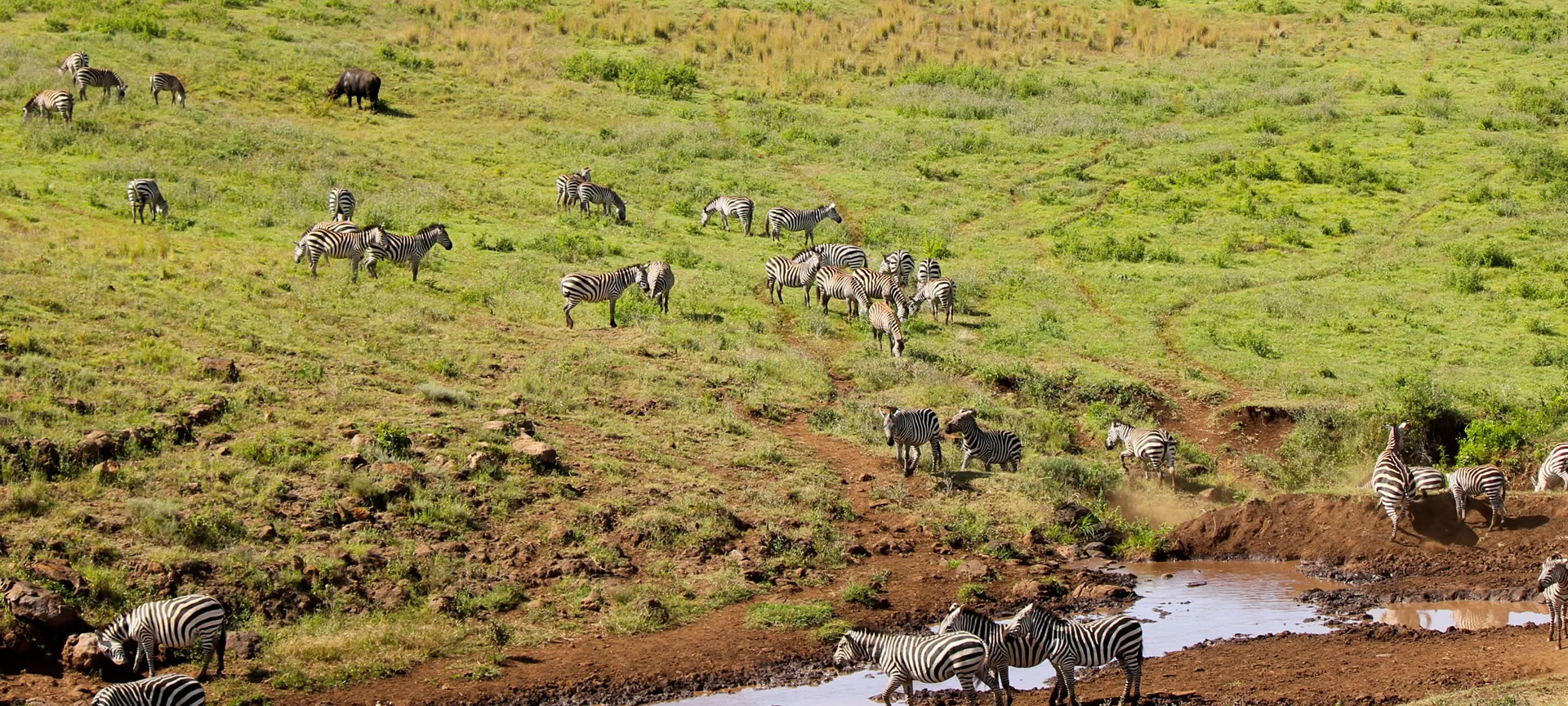 This is a unique and active safari experience; a trekking safari provides a welcome break to sitting in a vehicle for days on end. While walking you have the opportunity to stalk wildlife, search for tracks, and mix with indigenous cultures. On our trekking safaris you will generally move camp every day, which requires a simpler, lighter weight camp. We have designed a special walking safari camp. On this walking trip we will use Maasai donkeys to transport the camp. You will only need to carry your small day pack with water and personal gear for the day.
Day 1: Arusha National Park: You will be picked up from your Lodge/Hotel at 9:00am and driver to Arusha National Park for a game drive with the stunning view of Mt. Meru as a backdrop and unparalleled views of the majestic Mt. Kilimanjaro and the East African Rift Valley. This is your first safari experience with the lush vegetation, mammal species and countless birds of an ecosystem. The highland forests around the Ngurdoto crater as well as the slopes of Mt. Meru harbor the rare Black and White Colobus monkey. Arusha National Park is also reputed to have the highest density of giraffes in Africa. In the early evening we will return to the Lodge/Hotel/Camp and stays for dinner and overnight and get some good sleep for our walking Safari to the next day.
Day 2: Arusha – Ngorongoro Crater: Early in the morning after breakfast you will meet your driver guide and have briefing about your safari. Thereafter you will be transferred to Ngorongoro Crater with packed lunch. Upon arrival to Ngorongoro Crater you will descend to Ngorongoro Crater for a game drive at the Crater floor. The day will end up by ascending the Crater and drive to Empakai Crater and stays for dinner and overnight at the special Campsite Campsite.
Day 3: Trekking on Empakai Crater: In the morning after breakfast you will have a full day of trekking and walking in the crater floor. The walking will be accompanied by an armed ranger. We will explore this unique forested crater on foot, and marvel at the variety of its wildlife and flora that abounds in it. Depending with arrangement you will have lunch the campsite or having packed lunch with you on departure. In the late evening you will have dinner and overnight at a the special campsite.
Day 4: Trekking on the Rift Valley  Plains: In the morning after breakfast today, we hook up with Maasai guides for a walk/trek down the Rift Valley escarpment to the Salei plains. Our walking will be escorted by an armed ranger, Maasai guide and donkeys carrying our luggage. Upon arrive at Salei you will have dinner and overnight at the campsite.
Day 5: Trekking Rift Valley / Lake Natron: We continue with the trek/walk along the Great Rift Valley escarpment. The views over Lake Natron are magnificent. The flamingo colonies from a distance are a splash of dark pink color on the lake. We reach the floor of the Rift valley where we camp for an overnight stay. An early sleep would be preferred going to the next day's early trek up the Lengai to the summit by sunrise. Meal(s) plan: Breakfast, Lunch and Dinner.
Day 6: Trek Oldoinyo Lengai (Mountain of God): 01:00hrs – An early start just after mid night. Start the climb up Mountain Oldoinyo Lengai to reach the summit just in time for the sunrise. Inside the Crater we witness small eruptive cones spurting liquid magma which in turn form pools of hot lava. It is a powerful magical place sacred to the Maasai. We descend to Oldoinyo Lengai base and meet our drive guide who will drive us to Kamakia campsite for hot lunch, shower and a total rest and relaxation. In the evening you will have another shower, dinner and overnight at the campsite.
Day 7: Oldoinyo Lengai – Longido: In the morning after breakfast you will have chance to visit the waterfalls, walking safari along the Lake Natron to see how the Maasai women collecting bicarbonate soda for selling into the market. Lake Natron is also popular for its flamingo, pelican and other migratory and resident bird life more than 350 species have been recorded. In the afternoon after hot lunch at the campsite you will be driving to Longido village and upon your arrival you will check-in to the campsite for shower, dinner and overnight at Longido Campsite. Meal(s) plan: Breakfast, Lunch and Dinner
Day 8: Longido – Arusha: In the morning after breakfast you will have a cultural tour in Longido village whereby you will have sometime to learn much about the Maasai culture and their daily activities. How about milking a cow or collecting some firewood and water far away from their homestead. You will have much to learn before having hot lunch at your campsite and a short rest. In the afternoon you will be driving back to Arusha or Moshi for dinner and overnight at the hotel or lodge. Depending with the itinerary you might be transferred to Kilimanjaro International Airport for your flight back home. Meal(s) plan: Breakfast and Lunch
Price Includes: All Park entry fees – All Park Camping fees Pick up from the Airport Transport 4×4 Toyota Land Cruiser with pop up roof with driver cum guide Overnight at the Hotels/Lodge/Tented Camps/Campsites according to the program Chef/Meals as per the above itinerary Complimentary bottled of drinking water 1.5 litter per person per day during on safari 1 night free Hotel accommodation on your arrival in Arusha with bed & breakfast Tents/Sleeping mats/Sleeping bags/Chairs/Table/Pillow. Masai guide/Porters/Donkeys Price not includes: International flights & Domestic flight Fees for passport, visas, immunizations and insurance Tips for staff such as driver cum guides/chef/porter Expenses of personal nature (like souvenirs)