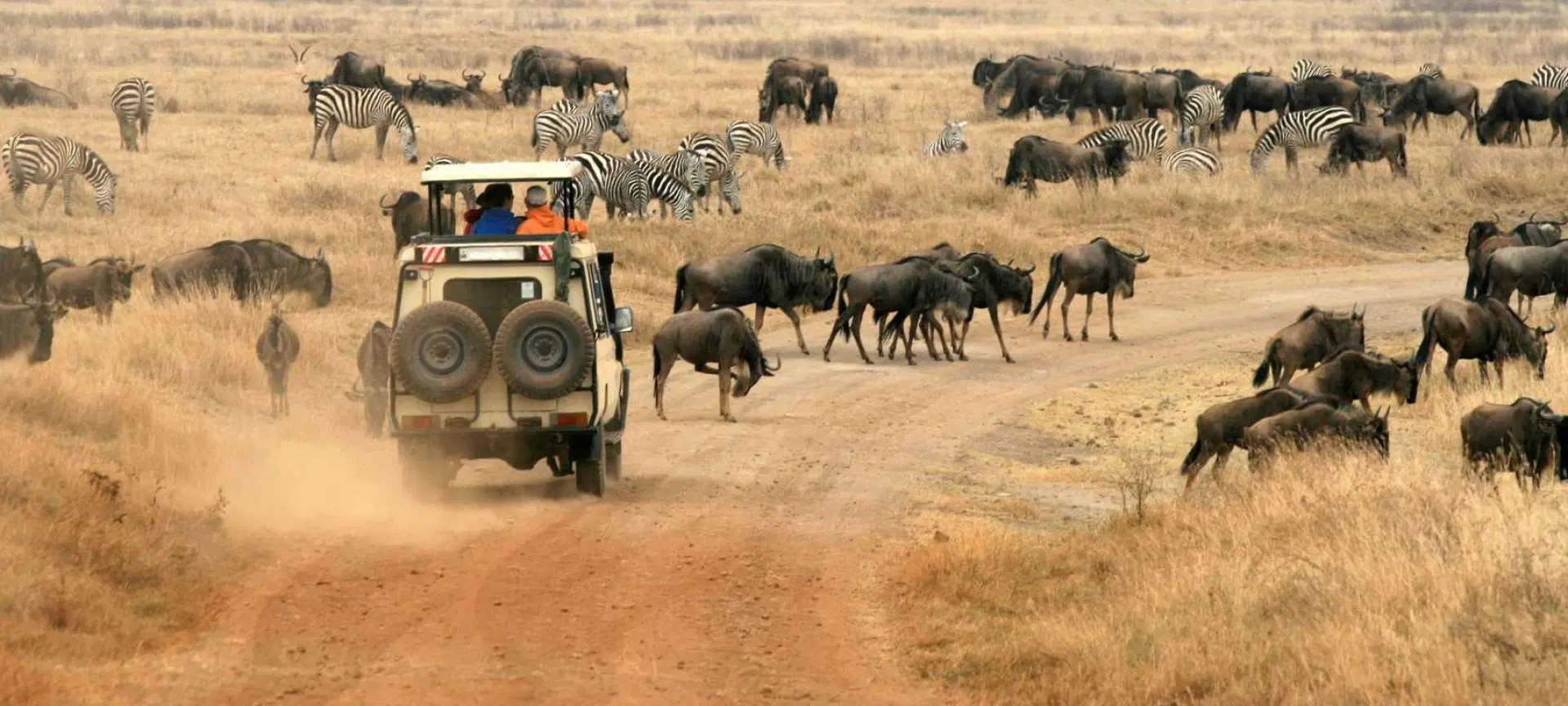 Overview: Our 2 days to the Lake Manyara National Park and Ngorongoro Crater safari packages were designed to offer visitors, with a time constraint, a short but very intense Genau Guides experience. You will experience the excitement of an African wildlife safari or even a photographic safari in two of the most spectacular National game parks in Tanzania.
This unforgettable African safari tour will take you to Lake Manyara National Park, one of Tanzania's most dramatically located wildlife areas, consisting of a shallow but huge soda lake, at the foot of the Great Rift Valley's western escarpment. Your tour will also take you to the Ngorongoro Crater, featuring one of the highest concentrations of game in Africa. Here you will witness a fantastic spectacle of African wildlife – inside a self-contained world, teeming with animals. The size of both the selected Lake Manyara and Ngorongoro Crater, make them a perfect choice for our shorter safaris, or a photographic safari. 
Day 1: Arusha – Lake Manyara National Park Non-game-viewing travel time: 2 ½ hours Distance: 130 km You will meet our professional driver tour guide at your hotel, who will deliver a short safari info briefing. After your breakfast, we drive to Lake Manyara National Park for a game drive. This impressive National Park is one Of Tanzania's most dramatically located wildlife areas, consisting of A massive but shallow soda lake (covering two-thirds of the park) at the foot of the Great Rift Valley's Western Escarpment. The Park's varied habitat attracts A wide variety of animals, including one of Africa's largest concentrations of Elephants; Manyara is famous for a Tree-climbing lion, as well as large flocks of flamingos attracted by the algae in the lake. Late afternoon we drive to the Lodge/Tented Camp/Basic Camp/Luxury stays for dinner and overnight.
Day 2: Lake Manyara – Ngorongoro – Arusha Non-game-viewing travel time: 2 ½ & 3 hours Distance: 60km & 190 km Our day starts very early in the morning. Equipped with a picnic lunch then we drive to Ngorongoro Crater and Descend 2000 ft. Down to the Crater floor by our 4×4 wheel drive vehicle. Let's explore this Garden of Eden. Ngorongoro is a huge and deep volcanic Crater. There's rich pasture, swamps, forest, and permanent water on the Crater floor. That's why wildlife here is so diverse and numerous. There are up to 25.000 larger animals living here. It'd the best opportunity to see Black Rhino and many other rare species like the black-manned lion. We will have a Fantastic day and you will see wildlife at its best. Late evening we return back to Arusha town and you will be dropped at your Lodge/Hotel—end of the tour.
Budget Accommodation Safari using affordable Hotels, Lodges, or Camps, comparable to a 1-2 star Hotel. Accommodation is usually located outside the National Park.
Mid-range Accommodation Safari using medium to large–scale Lodges, tented camps, or Cottage Camps, comparable to a 3-star Hotel
Luxury – Accommodation Safari using deluxe tented camps or Lodges usually located inside the National Park and comparable to a 4-star hotel. Accommodation is usually located inside the Park.
Luxury+ – Accommodation Safari using extremely luxurious tented camps or Lodge, usually located in a private wildlife – Viewing area and comparable to a 5-star Hotel. Expect great food, excellent service, top-quality guiding, and gorgeous tents or rooms. Most luxury + properties charge around USD$ 850 to 1850 per person per night!
Price Includes: All Park entry fees Concession fees All Park Camping fees Pick up from the Airport Ngorongoro Crater Service fees Hotels/Lodge/Tented Camps/Campsites according to safari program Chef Meals as per the above itinerary English-speaking driver/guide Transport 4×4 Toyota Land Cruiser with pop-up roof Bottled drinking water 1.5 litter per person per day during safari 1-night free Hotel accommodation on your arrival in Arusha with bed & breakfast Tents/Sleeping mats/Sleeping bags/Pillow/Chairs & Table/Mosquito net.
Price not includes: International flights & Domestic flights Fees for passports, visas, immunizations, and insurance Tips for staff such as driver cum guides/chef/porter Expenses of personal nature (like souvenirs)
"Please note that all these are sample itineraries. We will tailor-make your safari according to your wish and due to COVID-19 restrictions on travel around the world, it is free to postpone your travel up to 1 year after the original travel date"