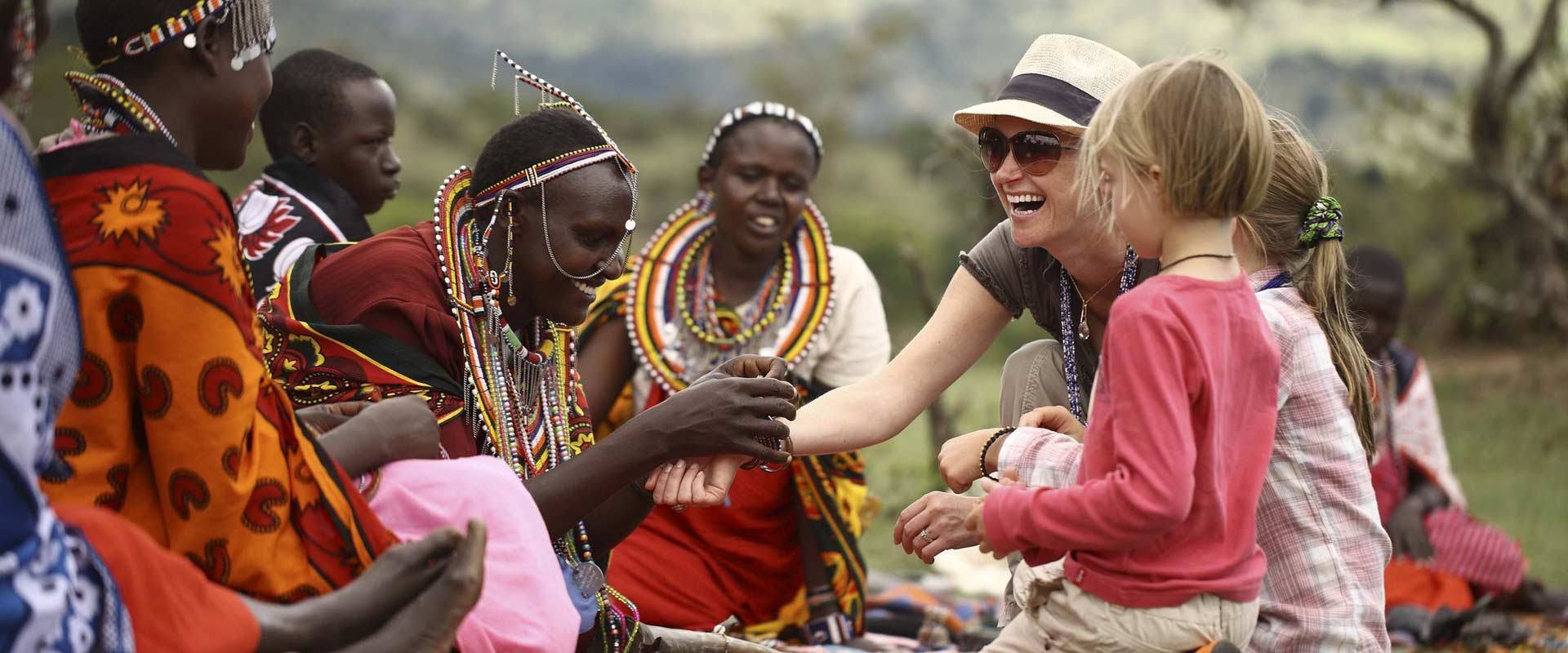 Tanzania Cultural Tourism, People and Culture in Tanzania: With its cultural art facts where you can experience real African life and enjoy the beautiful scenery of green mountains, wide plains and the dramatic Rift Valley, Cultural tourism refers to a form of tourism in which local people are closely involved. They design and organize the tours, show tourists aspects of the area in which they live and of their daily life. During the tours, local people often show their development projects, like irrigation and soil conservation activities or income-generating projects of women's groups. Visitors leave the area feeling they have made new friends and with information on the many positive developments going on in rural Tanzania.
Northern Tanzania Cultural Tourism: Ilkiding'a village lies 7 km north of Arusha town, a 20-minute drive. At Mianzini junction, cars can be hired. Walking is also possible but it will take you 2 hours to reach the starting point of the tour. (Income from tourist visits will be used to improve the primary school.)
Ilkidin'ga: You will be shown Masai Boma, the oldest African irrigation system and experience Waarusha cultural and enjoy traditional food. You will also walk into the house of the traditional healer who will answer historical questions. Craftsmen group will show you small wooden stools, jewelers, knives and traditional clothing.
Ilkurot: Its located 20km west of Arusha city along Nairobi road. Here you will have trekking experience of Ngorora Hill, thereafter visit Masai Boma to have true experience of African Culture on general Masai life, Masai dancing group and visit Masai colorful market. Longido: Near the Kenyan boarder, Namanga in Longido you will have a unique experience taming animals by camel ride, learn and even act the Masai way of life. Animal and Bird watching experience is what you can never miss a day in Longido. Sapuk: In a cultural tour in Sapuk you will visit the amazing Waterfall, beautiful forest catchment, Hollytree view of the city of Arusha. The more you spend time in the tour the most you enjoy tour and learn more. Engaruka: Situated 63 km north of Mto WA Mbu, on the road to Oldonyo Lengai and Lake Natron is one of Tanzania's most important historic sites. Some 500 years ago, a farming community of several thousand people developed an ingenious irrigation and cultivation system. For unknown reasons, the farmers left Engaruka around 1700. Many questions remain unanswered who were the people living in Engaruka, how did they come to develop such an ingenious, farming system and who did they finally leave Engaruka?
Lake Eyasi Located on a gentle slope overlooking the lake, Lake Eyasi Safari Lodge offers stunning views over the seasonal soda lake and up to the Ngorongoro Conservatio Area. All the 14 spacious rooms are scattered within the vast property and are tastefully furnished with great attention to detail, the décor blends elements from the surrounding landscape with modern comfort, and have private verandah overlooking the lake.
Bushmen: There are people who live in the forest near Lake Eyasi called "Bushmen" They live like ancient man depending on gathering fruits, hunting animals and live in caves or forest. They don't wear clothes. The cultural tourism visit to this area will enable you to see them. Natural walking is taking place around the area. The tour takes two/three nights and there are five campsites which can offer accommodation.
Mto WA Mbu: Situated adjacent to Lake Manyara National Park. In Mto WA Mbu is the only point in Africa, where 4 languages meet; the Nilotes, Cush*tes, Bantu and Hamates a unique cultural feature in the World. A point in Tanzania, where anthropology is most diverse. Visit to Masai Boma, dancing, market, schools and community project will be offered. Masai village visit to foster the true experience of most complex cultural experience in Africa is a gift will be hard to forget in your entire life. Hike the rift valley wall and view the Lake Manyara.
Monduli Juu: Situated 50km North West of Arusha on the road to the Serengeti National Park, Lake Manyara and Ngorongoro Conservation Area. You will experience the walking and trekking in Monduli Mountains, visit Masai women on Jewelers and handcrafts. The "Kona Saba" escarpment climb, medicinal herb tour, evergreen rain forest tour and a rest at astonishing panorama's overlooking the rift valley, Oldonyo Lengai Lake Natron… Mulala women have organized the following: A tour of Mama Anna's quaint cheese making unit, this being the starting point of the tour. A nice garden where you can relax and enjoy a beverage or a simple, traditional meal. Guided tours crisis-crossing coffee and banana farms, walking through the forest reserve or by the Marisha river bank and enjoying spectacular views of Mt. Meru and Mt. Kilimanjaro Agape Women Traditional Activities tour (1 to 2 hours) Visit the farms of the Agape Women's Group. The women will explain their farming methods and show you the various economic activities they have started, like cheese making, bread-making, flower seeds, chill growing and sewing. Mt. Meru forest reserve tour (1 to 2 hours) Walk into the forest reserve and climb up to the foothills of Mt. Meru, crossing the beautiful natural forest, home to many species of birds and monkeys.
Marangu/Mamba: Mountain climbing enthusiasts will be advised to visit the home and memorial of the late Yohano Lauwo, a Marangu and native who accompanied Dr. Hans Meyer on the peak of Mt. Kilimanjaro in 1889. You can also learn about the Chagga culture by visiting a traditional Chagga house with straw roofs. You can visit the Chief Mangi area where the first court and primary school of the Northern region are still functioning. You will be able to pass historic sites of clan wars where the charge used large caves to hide themselves when they fought with the Masai.